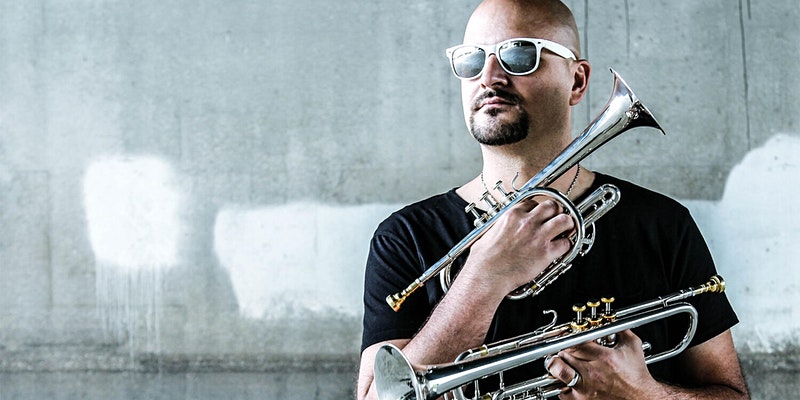 Just Jazz Concert Series | Daniel Rosenboom
Wednesday, June 15
08:30 PM - 11:00 PM
About this event 
Just Jazz Presents Daniel Rosenboom @ Mr Musichead Gallery
 *******Doors open at 7pm. Concert starts at 7:30pm. There will be a short artist interview prior to the live performance. Bar area will be open on the outdoor patio. Two drinks included with ticket purchase.
Daniel Rosenboom
Dan Rosenboom (b. May 7, 1982) is an internationally recognized trumpet player, composer, and producer. He is known as a prolific member of the Los Angeles creative music scene, having released more than 25 albums of original music as a solo artist and bandleader and has supported over 60 artists across nearly 90 releases on his label, Orenda Records. Rosenboom frequently performs in Hollywood Studios for major film and television soundtracks, highlighted by the latest Star Wars trilogy, with such notable composers as John Williams, Danny Elfman, James Newton Howard, Alan Silvestri, and Alexandre Desplat. He has also performed often with such elite ensembles as the LA Philharmonic, the LA Chamber Orchestra, and the LA Opera. His own music eschews genre distinctions and draws from such disparate influences as jazz and Black American Music, metal and experimental rock, contemporary classical music, folk music from around the globe, and a broad range of progressive music from the avant-garde. He studied at the Eastman School of Music, CalArts, and UCLA, where he earned advanced degrees in music. The Los Angeles Times has called Dan Rosenboom "a musician dedicated to exploration and expression, regardless of anyone's imagined boundaries," and "a phenomenon."
As a composer, Rosenboom has been recognized with grants and awards from the American Composers Forum, ASCAP, the Meet the Composer Foundation, and the Yvar Mikhashoff Trust for New Music. As a bandleader, he has brought his music to such renowned stages as the Monterey Jazz Festival, Angel City Jazz Festival, Jazzfestival Saalfelden and Jazz em Agosto. Working closely with LA icon Vinny Golia, and with his own Balkan jazz-rock group PLOTZ!, and improv band DR. MiNT, as well as many other projects, Rosenboom has solidified his place as a pillar in LA's music community.
Rosenboom's iconoclastic protest band Burning Ghosts has drawn international attention for their rousing blend of experimental jazz, punk, and metal as response to modern socio-political ills. To date they have released four albums, including one on John Zorn's legendary Tzadik label, and have toured in the US and Europe. In a review of their self-titled debut, Something Else Reviews dubbed them "the Rage Against the Machine of jazz."
Rosenboom is an advocate for progressive music education. He currently teaches at UCLA and Pasadena City College, and his own pedagogy book, The Boom Method: Universal Fundamentals for Trumpet and Other Instruments, Vol. 1, was published by Balqhuidder Music in 2019. His writing has also been published in John Zorn's Arcana IX: Musicians on Music on Tzadik.
Musichead Gallery
7420 Sunset Boulevard
Los Angeles, CA, 90046